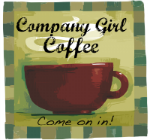 Come on in out of the cold girls! I have fresh coffee on to warm you up. Or, if you prefer tea, thanks to
Rachel Ann
I discovered this week that I have 23 different varieties of tea in my pantry for you to choose from!
Yup. 23.
One of my sanctuary tasks this week was to fill up some garbage bags with trash from any area of the house. Rachel Ann talked about cleaning out her pantry, and I knew mine was a mess I just kept shutting the door on, so that's where I started too.
I found many horrifying discoveries, but the worst/funniest? I just kept pulling out box after box of tea bags. Before long, Evan was laughing at me, and grouping them into piles on the counter. After the pantry, I moved on to the cupboard where I keep spices and baking items, and pulled out a lot more trash. AND more tea bags!
When I was done, I thought to myself, "What in the WORLD?! How did this happen?" And here is what I've come up with. When we get groceries, I try in general to put things in the same spot. But if there's not room, I just shove it in somewhere. Anywhere. And apparently this causes a back log of tea bags. I also need to do some more careful inventorying before hitting the grocery store.
No more shoving things in for me. Even if the results are great at getting your grumpy 11 year old to crack a smile.
It's frigid at our house today. Temps are at -30 below. No kidding! The furnace can barely keep up, so we have been gravitating towards the living room andthe fireplace, and the cozy blankets we keep by the couch.
Here's Charlie and kitty Ray keeping each other warm:
At least we can drink warm tea when we are chilly!