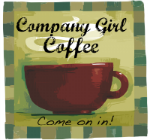 Come on in girls!! The coffee's always hot at The Sole Woman!
How was your week? I hope you all had a great one.
We were busy going back to school and to work. Having three weeks off due to Christmas break and two blizzards was good, and it was bad. We had lots of family time, we slept late every day, we snuggled in on the couch, and watched some great movies. Unfortunately, we also got completely away from our routine and structure. By Wednesday the kids and I were having to drag ourselves out of bed and prop our eyelids open. It really showed me how much of a positive impact having a basic schedule and routine around the house helps everyone.
Thursday was a KILLER. I worked a full day, and had a late meeting after school before we could leave. I needed to stop at Costco on the way home, so it was 5:30 by the time we were pulling into our neighborhood. Very late for us. I was pleased to see that our neighborhood had been plowed again while we were gone, and we finally had a two lane road again after about 3 weeks of narrow one lane driving. As we got closer to our house, I noticed that there were cars all up and down the street sitting with there hazard lights on. "What in the world?!" I thought. "What's everybody doing?"
And then I saw it. No one could get into their driveways because the plow had created a 3 foot wall of ice in front of each house.
Ice. 3 feet of it!
We were already late and I had been trying to figure out how I would manage dinner, homework, and bath by myself while Jeff worked late. Now I had to add ice chipping to the list. When it rains, it pours!! And sometimes, it pours ice.
I made it though! I tried to focus on the bicep workout I was getting. The power of positive thinking!!!
We have a big weekend ahead. Charlie's birthday is on Sunday. My middle baby is turning 4! We are having friends and family on Saturday for a celebration. Charlie is PUMPED for birthday fun! And while I am a little sad that he is getting so big, I can't wait to help him welcome in this new year.
I hope you have a wonderful weekend!!