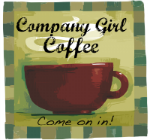 I am having afternoon coffee at my blog today! Today was our second day back with kids, so I am sitting back and enjoying a cup of joe after a long day of teaching. Thanks for joining me!!
This week marked my return to work after a FABULOUS Christmas break. Boy oh boy did I need those two weeks to recharge. I enjoyed every second of it.
It was nice to go back and see my kiddos, and I loved hearing about their Christmas adventures. However, it's amazing to me how quickly my body gets out of teacher mode. My feet hurt from standing all day, and my throat hurts from talking all day long. I need to build up my endurance again.
Yesterday was a bit nerve wracking for me. I had to have a biopsy done, and am awaiting news on whether or not it is cancerous. It would mean so much to me if you could pray for a positive outcome. The whole experience has led me to think about how very blessed I am, and how very much I have to be thankful for. I have a husband I adore, three of the best boys on earth, and a job that I love and feel called to do. It doesn't get much better than that. So, today I am thankful for all of my blessings, and I am hopeful that this health concern comes to a positive end. I am finding comfort in knowing that whatever the outcome, the Lord is walking next to me, and will help me to face any challenges that may be coming my way.
Happy weekend everyone! I hope you have many opportunities to enjoy your blessings :)